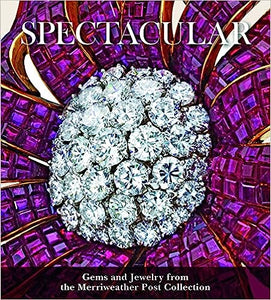 Spectacular: Gems and Jewelry from the Merriweather Post Collection
Regular price
$39.95
Sale price
$19.98
---
The Merriweather Post collection offers an enthralling glimpse into one of the most remarkable, and intact, collections of jewelry ever amassed.
Spectacular immerses the reader in jewelry history and design, weaving in seminal moments in Post's life as one of the most passionate and confident collectors of jewelry of the twentieth century. There are exquisite pieces by Van Cleef and Arpels; numerous examples by Cartier; contemporary commissions from Harry Winston, George Headley, David Webb, and Fulco di Verdura; and historical pieces such as the Marie Louise Diadem and the legendary earrings worn by Marie Antoinette on the eve of the French Revolution.
Spectacular provides a critical perspective on developments in changing jewelry styles in America and Europe through one woman's unique collection. Fascinating essays highlight special details of the gems and jewels, as well as their sometimes scandalous history. Full of fabulous images and interesting facts, this new volume will appeal to anybody who wants to know the story behind some of the most amazing jewels ever created.
Featuring contributions from:
Liana Paredes, former director of collections & chief curator at Hillwood Estate, Museum & Gardens
Martin D. Fuller, founder, and president of Martin Fuller Appraisals, LLC
Michael Hall, curator of ceramics of the Capelain Collection in Jersey, Channel Islands
Jennifer Levy, former curatorial assistant at Hillwood Estate, Museum & Gardens
Jeffrey Post, curator of the U.S. National Gem and Mineral Collection as well as chairman of the Department of Mineral Sciences, Smithsonian Institution,
Dr. Wilfried Zeisler, chief curator of Hillwood Museum, Estate, and Gardens.
Hardcover or paperback
200 pages
Measurements: 9.7 x 10.7 inches
Published by Giles in 2017